March 9, 2020 – Dreamsville U.S.A. is not a figment of imagination or a placeholder on an architect's blueprint designing an American utopia. It's Dennison, Ohio, the halfway point between Pittsburgh, Pennsylvania and Columbus, Ohio. The once-mighty Pennsylvania Railroad of Monopoly fame, the "Pennsy," recognized Dennison's strategic location along its New York City to St. Louis route. By 1940, Pennsy's Dennison stop was its second-largest hub. It included a 40-acre rail yard with two roundhouses, locomotive and rail car shops, blacksmith shops, and tracks to everywhere. Those tracks would soon be transporting hundreds of thousands of servicemen to destinations and fates unknown.
America enters World War II after Pearl Harbor (Dec. 7, 1941)
Following Imperial Japan's attack on Pearl Harbor on Dec. 7, 1941, on any given day for two years there were about 200 troop trains crisscrossing the country. Each train transported from 600 to 800 servicemen, many on their first trip away from home. Residents of 125 communities from coast to coast opened their arms and their kitchens to them. Forty-five canteens serving food popped up on railroad platforms.
From March 19, 1942 to April 8, 1946, nearly 4,000 volunteers, living in eight counties in and around Dennison, kept the lights on and food flowing 24/7 from small carts and trays at the Dennison Railroad Depot Canteen. The Dennison Canteen, the third largest one in the United States, served a total of 1.3 million servicemen.
Troops passing through renamed the town. Dennison became Dreamsville U.S.A.
The Salvation Army and citizen volunteers had sandwiches, fruit, doughnuts, and cookies – or whatever food was available that day – ready to serve as soon as the servicemen arrived. Teenage girls helping at the Canteen would sometimes slip their name and phone number into magazines they were handing out. Word of Dreamsville's hospitality spread among troops.
Hungry and homesick, free food, hot coffee and magazines from friendly volunteers meant the world to boys going off to war. One soldier kept his sandwich wrapper with him for the duration of his service overseas and returned home with it intact.
After World War II (1946 to present)
The last passenger train stopped at the Dennison Depot in 1968 and in 1982, the last freight train pulled out of the station. The Depot deteriorated.
Spearheaded in 1984 by Dennison Mayor Greg DiDonato, the community saved the Depot from demolition when the Village of Dennison purchased it for $25,000 from Conrail.
Residents rallied for the renovation. Students learning construction skills at school worked at the site, gaining valuable real world experience and a hands-on history lesson no textbook could begin to tell. Volunteers logged countless hours bringing the Depot slowly back to life.
The Dennison Railroad Depot opened in 1989. Wendy Zucal, Dennison Railroad Depot Museum executive director, came aboard as the museum was about to open. She has guided the museum since then through nine phases of renovation. In late fall 2020, a Pullman car Bed and Breakfast is slated to open. Other communities have taken notice. Wendy said they receive many inquiries from other historic sites seeking advice on preservation and renovation.
She has an interesting walk to her office. Renovation included a new building that connects the Depot to railroad cars so visitors can easily "board" a train to the past. Themed cars are filled with fascinating artifacts and photographs about the Pennsy, the Dennison rail yards where more than 3,000 people once worked, and the Depot's World War II heritage, including a rare WWII hospital car, one of only six known to exist. The car was restored through "Save America Treasures" funds from the National Park Service and the Ohio Department of Transportation.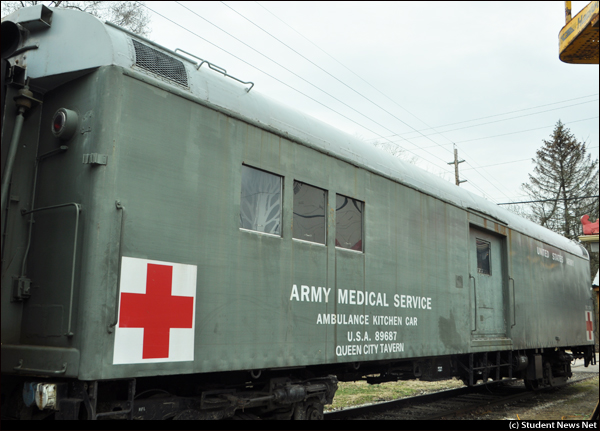 The site has been a National Historic Landmark since 2011 as "the most significant remaining example in the nation of a railroad station canteen still reflecting its World War II heritage."
Wendy's office is at the end of the museum train but she can see far ahead as she guides the museum to the future. "Dennison is a little town with access to the world," she said during a Feb. 11, 2020 interview.
Unsung Home Front Heroes
Dreamsville U.S.A. is still serving the Home Front offering an unparalleled living history experience. Stand near the tracks and transport yourself back to the 1940s. You can see hundreds of hungry servicemen grabbing a sandwich before the massive 400-ton steam locomotive rings her bell and blows her whistle to depart. Imagine making and then serving hundreds of sandwiches, hundreds of cookies, and hundreds of cups of coffee daily for more than four years. Those volunteers are unsung heroes of the WWII Home Front and the Arsenal of Democracy. Dreamsville's spirit and sacrifice remain an inspiration more than 75 years later.
EXTRA! EXTRA!
Vocabulary
1. figment: (noun) – something that is not real
2. imagination: (noun) – the state of imagining something that is not real
3. placeholder: (noun) – something that marks an important point or spot
4. utopia: (noun) – a place that is perfect, ideal
5. strategic: (adj.) – wise, smart
6. destinations: (noun) – locations, spots or points to which people travel
7. fates: (noun) – outcomes, what will happen to a person in the future
8. hospitality: (noun) – actions that make another person or persons feel welcome
9. duration: (noun) – length of time until the end or conclusion of something
10. deteriorated: (verb) – went into disrepair, not cared for properly
11. spearheaded: (verb) – led, took the lead
12. demolition: (noun) – act of demolishing/tearing down, usually a building
13. renovation: (noun) – act of renovating or returning a building to better form
14. valuable: (adj.) – worth a significant amount or of high value for another reason
15. countless: (adj.) – endless, too many to count
16. unparalleled: (adj.) – unequaled, without equal, amazing
17. inspiration: (noun) – something that inspires, motivates, causes someone to act, usually in a good (benevolent or sentimental) way
REVIEW QUESTIONS
1. When did the Dennison Railroad Depot canteen begin serving servicemen?
2. How many servicemen were served during World War II at the Dennison canteen?
3. How was the Canteen operated 24/7 for four years?
4. Why did the Dennison Depot qualify as a National Historic Landmark?
INQUIRY QUESTIONS
1. Why is the Dennison Canteen an exemplar in civic engagement?
2. What were some of the challenges volunteers most likely faced as they operated the Canteen 24/7?
3. How would you describe the process of first preserving and then renovating the Depot?
4. Why are the women who worked at the Canteen unsung heroes of the Arsenal of Democracy?
5. Consider there were two railroad canteens larger than Dennison during World War II. The canteen near Omaha, Nebraska served a total of six million servicemen. The canteen in New York City probably served many millions as well. What were the local, regional and national impacts of canteens on the WWII Home Front? How did the canteens help to define the impact women had on the WWII Home Front?