STORY SNAPSHOT
The Smith family from New Castle, Indiana sent four sons off to war overseas during World War II. And two sons served on the Home Front. Harold was a U.S. Army airplane mechanic and Lloyd was a civilian working for the U.S. Navy.
Bud, George, Raymond and Norman served overseas. Between the four Smith sons, they served in Italy, the Philippines, in France during the D-Day invasion, and in Belgium during the 1944-1945 Battle of the Bulge.
Harold Smith became an airplane mechanic, finishing first in his class. He served on the Home Front, mainly in Florida.
George was wounded during the D-Day invasion. He was one of the first soldiers to receive penicillin, a new antibiotic that had been produced in large quantities just in time for D-Day on June 6, 1944.
Norman fought in the Battle of the Bulge and became a Prisoner of War (POW) in 1944. He was sent to Stalag XIII-C in Hammelburg, Germany.
Gen. George Patton liberated American POWs in spring 1945. Norman returned home in July.
All of the Smith brothers survived the war.
April 27, 2020 – Approximately 16 million men were drafted or enlisted in military service during World War II. The Smith family of New Castle, Indiana did their part and then some. Three Smith sons deployed overseas serving in both the Atlantic and Pacific theaters of operation. And two Smith sons served on the Home Front.
Overseas deployment
Bud served in the U.S. Navy in the Atlantic theater having deployed to the Mediterranean and Italy as the Allies sought to liberate Italy from Benito Mussolini's fascist rule and German alliance. In early 1944, Bud's ship was sunk off the coast of Naples, Italy. He spent 24 hours in a life raft before being rescued. He returned home in late June 1944.
George was wounded in France during Operation Overlord, the D-Day invasion that began on June 6, 1944. He was awarded a Purple Heart and four bronze stars for his actions and was one of the first soldiers given penicillin to stave off a life-threatening infection. After recovery, he was stationed in Germany at the end of the war guarding shipments of gold and precious art. He returned home in September 1945.
Norman was in the Infantry and held as a Prisoner of war (POW) in Stalag XIII-C in Hammelburg, Germany. He had been captured during the Battle of the Bulge on Dec. 18, 1944, two days after the last major battle in Europe commenced. He was taken to three different POW camps and lost 60 pounds. According to information from the family, Norman's daily rations were Tea for breakfast; cabbage soup and one-sixth of a piece of bread for lunch; and jam or potatoes with a small piece of margarine for supper. Gen. Patton's Third Army liberated Norman and thousands of American POWs in 1945. Norman returned home in July 1945 and was assigned to Fort Harrison where he guarded German prisoners who had been brought to the United States. He was discharged from the Army in November 1945.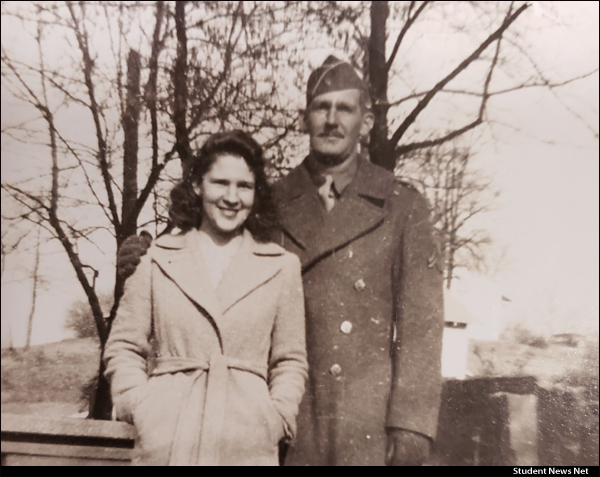 Raymond joined the Indiana National Guard in October 1940 and was called up to active duty in December 1940. He served in the Pacific Theater of operation where he became ill with jungle fever. Deployed to the Philippines with the 38th Infantry Division under the leadership of Gen. Douglas MacArthur, Raymond was in the unit charged with recapturing the Philippines. In March 1942, Gen. MacArthur famously said, "I Shall Return" after being ordered by President Roosevelt (FDR) to evacuate the Philippines as Japan took control of the islands following their December 1941 invasion. Gen. MacArthur and his men did return on October 20, 1944 to liberate the Philippines from Japan's brutal occupation.
Home Front deployment
Two Smith sons served on the Home Front. Lloyd was exempt from military duty due to a heart murmur and served as a civilian performing important work for the U.S. Navy.
Sgt. Harold R. Smith, the sixth Smith son to serve their country, was a member of the U.S. Army Air Force, serving stateside from 1942-1945 as an airplane mechanic who graduated at the top of his class. He became a crew chief stationed in Sarasota, Florida where U.S. Army Air Force combat pilots trained.
The Smith family's WWII service history is a snapshot of the global war itself. Boys from Indiana who rarely traveled outside of the state were sent around the world to defeat Hitler's Nazi Germany, Imperial Japan's aggression and attack on the U.S. Navy at Pearl Harbor, Hawaii, and fascism in Mussolini's Italy, the three Axis Powers with a stated goal to create a new world order.
Multiply the military service of the Smith brothers by millions. Add to this family commitment the support they received from millions of civilians on the Home Front who created the "Great Arsenal of Democracy." The United States supplied the Allies with two-thirds of all military equipment used during the war. It's then crystal clear how the Allies defeated three enemies who had been preparing for world war for years.
Sgt. Harold R. Smith
Harold graduated from New Castle High School in May 1942, the first one in his family to graduate from high school. It was six months after Pearl Harbor. That summer he went to work for Chrysler making shells and 50 caliber cores for machine guns.
Harold and George were drafted into the Army on Nov. 10, 1942. The Selective Training and Service Act of 1940 had been amended that same month declaring 18- and 19-year-old men eligible for active duty service for the first time. They were sent to Fort Benjamin Harrison in Indianapolis, Indiana.
George was assigned to Company F, 330th Infantry. Harold was assigned to the training division of the 2nd Air Force [Army Air Force] and stationed in Atlantic City, New Jersey. He began his training as an airplane mechanic after being assigned to the 611th Technical School Squadron Flight "B."
In the 1980s, Harold wrote "A Biography of My Army Service." It's a gift to family, friends and history.
Of his time in Atlantic City, Harold said:
"While in Atlantic City, I was to serve on guard duty. We were required to walk the beach on the Atlantic Ocean. Saboteurs had been coming ashore at different places on the east coast and in Florida. While I was there, a German submarine was sunk just six miles off shore and the oil slick from it would wash up on shore as we walked guard duty. It was a harrowing experience at night. The Coast Guard was also there but they rode horses most of the time."
1943
In January 1943, Harold was assigned to the Academy of Aeronautics AAFTD Class 126C at LaGuardia Field in Queens, Long Island, New York. During his time there, he learned Owen, his cousin and best friend back home in Indiana, had been inducted into the service.
In February 1943, Harold was sent to the Casey School of Aeronautics in Newark, New Jersey for his second phase of study.
"The school had a large building where the instruction was given. We were to learn the intricate workings of the airplane here; the electrical system, the hydraulic systems, etc," Harold said in his biography.
In April, he was assigned to Roosevelt Field on Long Island where he was trained in airplane inspection. He lived in airplane hangars at the air base. His pay was $54.00 per month.
On May 12, Harold was named a crew chief of an airplane. On May 27, 1943, Harold received his Diploma. He actually received two Diplomas because he was one of the top three students in his class.
He was then assigned to Camp Curtissair in Buffalo, New York where he lived in Army barracks. The camp was built on the grounds of the Curtiss Wright Airplane factory. They were building the C-46 cargo plane and the P-40 fighter airplane. Harold worked mainly on the P-40.
From Buffalo, Harold was assigned to the 3rd Army Air Force in DeRidder, Louisiana for one month. Harold was a crew chief for a P-47 airplane.
On July 31, 1943, Harold was assigned to Sarasota Army Air Base (SAAB) in Sarasota, Florida, a base where pilots trained for overseas combat duty. Within four weeks, Harold was promoted to Sgt. Harold Smith and was now earning $75.00 per month. He would spend the rest of his military service there.
On Sept. 26, 1943, he went home on furlough and married Helen Erwin.
1944
In January 1944, SAAB replaced all P-40 planes with the new P-51 airplane. "These were great planes. We liked them very much and they were to prove themselves to be the world's best fighter plane in World War II," Harold said in his biography.
In 1942, the P-51 (the "Mustang") was built with a Rolls Royce "Merlin" engine from England. The plane was used for high altitude (up to 41,900 feet) escort of B-17 (Flying Fortress) and B-24 (Liberator) bombers. The Tuskegee Airmen flew Mustangs and the plane was used in every active combat zone during World War II.
Bud joined the U.S. Navy around this time and trained at the Great Lakes Naval Training Station. He then deployed to the Mediterranean.
In July 1944, Norman came home for a short leave before being deployed to England. George was recovering in England from his injuries sustained in France.
Following the successful D-Day invasion, the Allies were pushing German troops inland to liberate France from German occupation. Paris was liberated in August 1944. Soviet Union forces were pushing west into Germany.
Hitler launched his last major offensive in December 1944 to capture the port of Antwerp, Belgium. To get to Antwerp, he had to go through Bastogne, Belgium. Hundreds of thousands of German and Allied troops converged around Bastogne where the Battle of the Bulge was fought in bitterly cold weather. Allied troops lived outdoors in foxholes in the Ardennes Forest for almost one month to stop the German advance. Some Battle of the Bulge veterans would have lifelong injuries from the exposure.
"December 1944 was to have an impact on me that was to stay with me for the rest of my life. One day while on duty, I was sent word that I had an important telegram at headquarters. The first thing I could think of was that one of my brothers had been killed. I went down and picked up the telegram and for almost an hour I was unable to open it. When I finally did, it said simply, "Owen killed in action." He had been killed on December 12 during the Battle of the Bulge. Owen was my closest friend. Even closer than my own brothers, so it hit me hard," Harold said in his biography.
1945
After German Nazi troops failed to capture Antwerp, Nazi Germany's defeat was imminent. At the end of January, Soviet troops liberated Auschwitz, the German concentration camp in Poland where more than one million European Jews had been murdered.
In March, Harold's unit was deployed overseas.
"About March 1945, they sent a large portion of my outfit to China. But my S.Sgt. [Staff Sargeant] who was in charge of choosing the men to go refused to take me because I was married and had a child. Although I wanted to go, I was glad I hadn't gone. Later we learned a large portion of them had been killed," Harold said in his biography.
On April 12, 1945. President Roosevelt died suddenly of a massive stroke. Harry Truman, his Vice President, became the 33rd President of the United States.
In late April, both Adolf Hitler and Benito Mussolini died. Hitler took his own life and Mussolini was shot while trying to escape to Switzerland.
"In May 1945, the great day came. May 8 was V-E Day in Europe and Victory had come to the Allied forces after five hard years of war," Harold said in his biography.
After President Truman approved of dropping two atomic bombs on Japan in August, Japan surrendered. On Sept. 2, 1945, Japan formally surrendered aboard the USS Missouri, a battleship, anchored in Tokyo Bay.
The Smith brothers were all home by Christmas.
"I would spend my first Christmas, at home, since December 1941. It would be a joyous occasion," Harold said.
Multiply that joy by the millions of soldiers who also returned home. It was joy that was always tempered with the loss of their fallen brothers whom they honored for the rest of their lives.
Author's Note: On March 9, 2020 in Lebanon, Ohio near Cincinnati, I had the pleasure of meeting Rachel, Carol and Judy, Harold's daughters. They shared the many documents and pictures included in this story. Seeing the original letter addressed to Norman in a POW camp stamped "Returned to Sender" because it could not be delivered was especially poignant as was seeing Harold's dog tag and the Army Air Force handkerchief he sent to Helen. Typical of so many WWII veterans, Rachel, Carol and Judy said their father and uncles never talked about their WWII service. Stephanie Felts, Harold's granddaughter and Rachel's daughter, remembers as a little girl tagging along with Harold as he visited his brothers. She remembers hearing chatter that was most likely about their experiences in WWII. They were a band of brothers. Thank you to Rachel, Judy, Carol and Stephanie for a wonderful step back in time in a loft at a coffee shop!
Thank you also to Stephanie Felts and Mike Durkee of the Tri-State Warbird Museum near Cincinnati, Ohio. In the video above, Mike explains how an airplane engine works and reviews the interesting history and key features of the P-40 and P-51 warbirds that are on display at the museum.
VOCABULARY
quantities: (noun) – numbers; amount
liberated: (verb) – freed, gained freedom
enlisted: (verb) – signed up, joined in a formal manner
deployed: (verb) – sent to another location, usually referring to a military mission
commenced: (verb) – began
civilian: (noun) – not a person in the military
aggression: (noun) – actions on offense that cause harm to the other entity
harrowing: (adjective) – dangerous, scary, frightening
REVIEW QUESTIONS
1. How many Smith sons served in the military and were deployed overseas during WWII?
2. What helped George survive wounds he received during the D-Day invasion?
3. Where was Harold Smith stationed and what was his job?
4. How did Harold train for his job in the U.S. Army?
INQUIRY QUESTIONS
1. The Smith sons served in both the Atlantic and Pacific. How does their combined service give such a unique overview of WWII?
2. Why were airplane mechanics so crucial to the war effort both on the Home Front and overseas?
3. How do you think Norman's experience as a POW affected him? Many soldiers did not want talk about their experiences after they came home. But from what was described, how do you think Norman's experiences may have affected him for the rest of his life?